PROGRAMS
SENIORS ARE STARS
Saturday
7:30 am - 8:00 am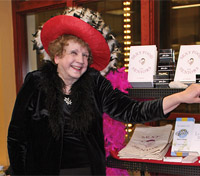 Hosted by Lorraine Seymourian
781-239-8153
seniorsarestars@hotmail.com

To prove seniors are romantic, vital, glamorous, talented and fun.
Lorraine has interviewed hundreds of celebrities including Joan Rivers, Michael Douglas, Regis Philbin, Shirley Jones, Hugh O'Brien and the Duchess of York.
The program includes talent, humor, singing, dancing, cuisine and fashion tips plus surprises and secrets.
Learn how talented and sensational seniors are.